Leverage Labor Market Insights Like Never Before
Deliver insights and value without spending extra time and effort on data wrangling. Our data platform tracks over 15 million new jobs each month, across all industries. This includes data on hiring demand, pay levels, access to labor and key skills requirements for over 5.9 million organizations. With billions of data points at your fingertips, it's easy to turn your ideas into reality.

Direct Access to the world's largest labor market data set
Greenwich.HR brings the world of labor market intelligence to you. Our data platform offers real-time labor market data collected from millions of sources and consolidated into a single structured database. The data is updated daily and normalized using patented AI technology.
Direct Access makes it easy to build queries and visualizations using your own business intelligence tools. Individual users can easily access the platform without ingesting the full dataset. Now you and your team can deliver insights and value without spending extra effort on data wrangling.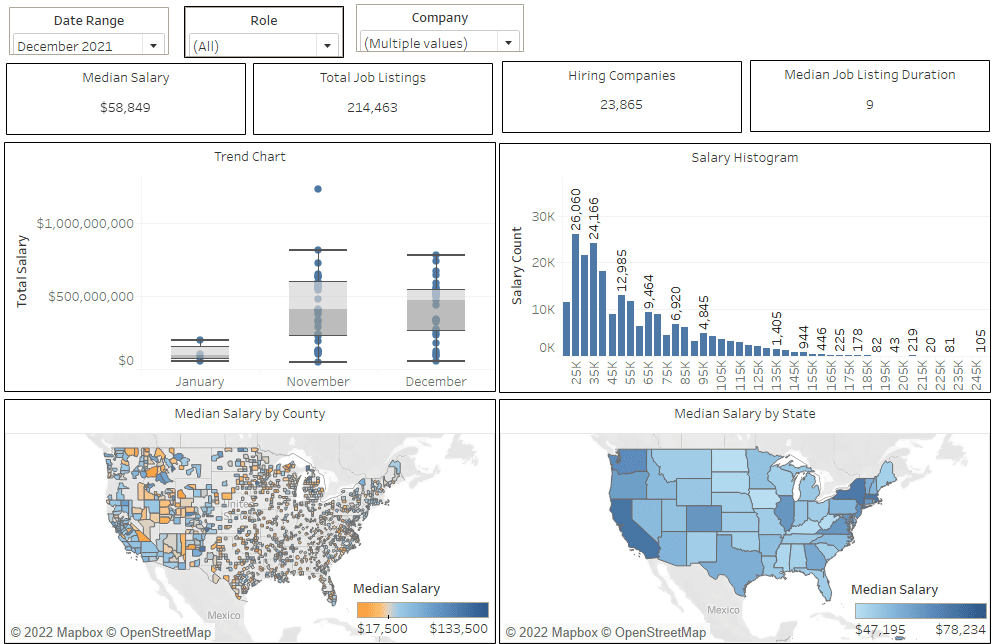 Real-Time and Transparent
All data is updated daily, giving your team access to real-time insights.  Our comprehensive labor market data is integrated into a single dataset and ethically sourced from public-facing, company-provided sources and thus fully transparent with no masking or aggregation. Our patented AI-technology integrates hiring and compensation data from millions of sources. 
Access comprehensive data with your own business intelligence tools. No need to maintain a new application. Our data
platform is simple to incorporate into your environment and provided in a format that
is best suited for your application or service requirements.
Our data platform offers the filtering and search features you need for your business, including: Salary, Job Title, Job Family,
Skills, Job Attributes, Experience Levels, Company, Industry, Ticker, Location (State/Metro/City/ZIP), and more.